About us
YES! ... I am still very proud of this; that is why it is at the very top of the page ... even though I have added further designations since (see below)

During October 2013 Robert became a Certified International Property Specialist® (CIPS®)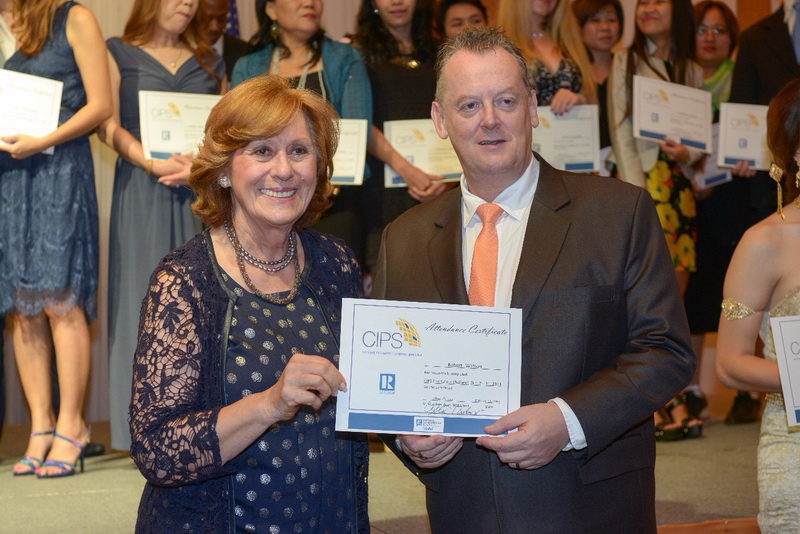 Certified International Property Specialist® (CIPS®)
Realtors with the CIPS® designation have training and hands-on experience in international real estate transactions, assisting foreign investors, and helping local buyers invest abroad.
CIPS® designees have also completed a program of study focusing on critical aspects of transnational transactions, including currency and exchange rate issues and cross-cultural relationships, regional market conditions, investment performance, tax issues and more.
CIPS® is a members-only group is specifically for international practitioners of the NAR® and comprises of over 2,000 real estate professionals from 50 countries.
* * * * *
July 2023...and pleased to introduce you to the core members of Five Star Villas & Condos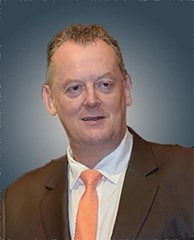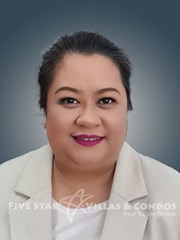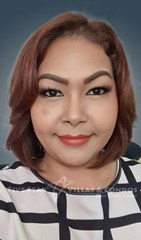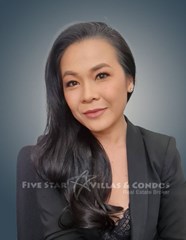 Rob (Eng), May (Thai/Eng), BeeBee (Thai/Eng) and Som (Thai/Eng/German)
* * * * *
Here are Rob's contact details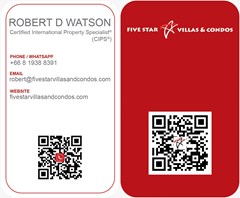 Here are May's contact details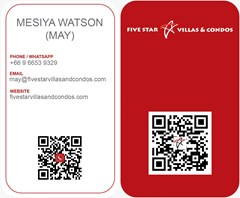 Here are the contact details for BeeBee and Som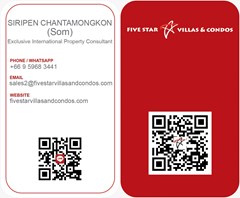 * * * * *
In late 2019 Five Star Villas & Condominiums began to enjoy the benefit of working with Pattaya Business Alliance. PBA are a Legal company who are also daily involved with VISA applications and renewals, Work Permit applications and renewals, the full scope of legal and accountancy services, certified translations and insurance services etc. Check out the links at the bottom of the Five Star website for the full scope of their services.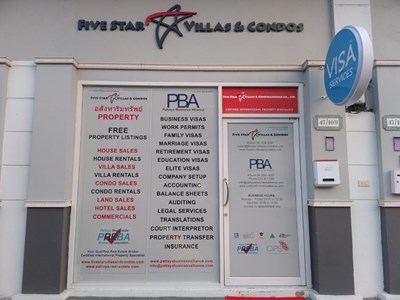 PBA share the office with Five Star at Welcome Town but are separate entities; utilising each other's expertise for their mutual benefit and the benefit of their clients.
Finally, in October 2020, Robert got around to changing the window and door signage to incorporate the services of PBA.
Welcome PBA!
* * * * *
Robert receiving his Seniors Real Estate Specialist® (SRES®) certificate from Dr. Furhad Waquad, Course Instructor, 2013 Chairman National Association of REALTORS®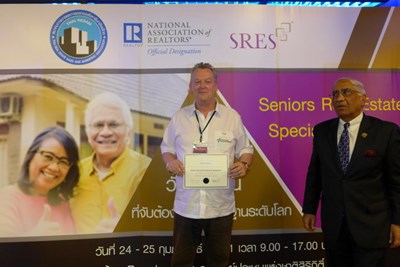 On 25 FEBRUARY 2018 Robert became a Seniors Real Estate Specialist® (SRES®) having successfully completed the designated curriculum involving business-building skills and resources for specialization in the 50+ real estate market by expanding knowledge of how life stages impact real estate choices, connecting to a network of resources, and fostering empathy with clients and customers
* * * * *
On 1st October 2016 we moved to our new offices in Welcome Town, Pattaya Klang Road - with lots of car parking spaces! (see HOW TO FIND US)
What a pleasure it was to move to these brand new offices - offices that we are proud to welcome you to visit!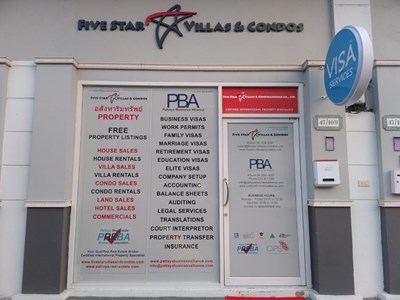 * * * * *
May 2016
Robert and May became Board Members of the newly formed Pattaya Real Estate Brokers Association (PREBA) with May becoming the inaugral President and Robert the Treasurer.
PREBA is the regions only real estate association, recognized and registered by the Thai Government Authorities.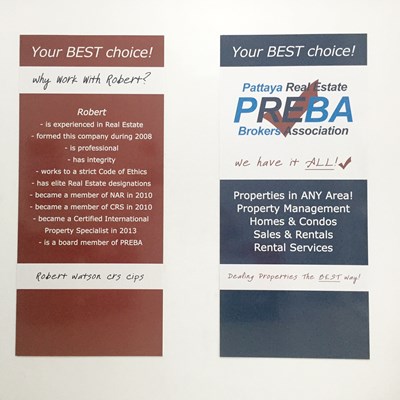 * * * * *
December 2015
Robert successfully introduces the OPEN HOUSE concept for Pattaya co-brokers.
This event was visited by brokers from Los Angeles, Chicago, Phillipines ... and of course Pattaya!
I think that we were lucky having international brokers in town that day!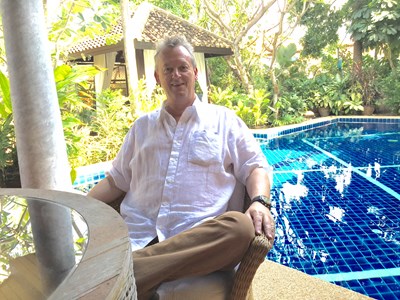 * * * * *
July 2014
Robert deep in negotiation with a property owner in Pattaya Thailand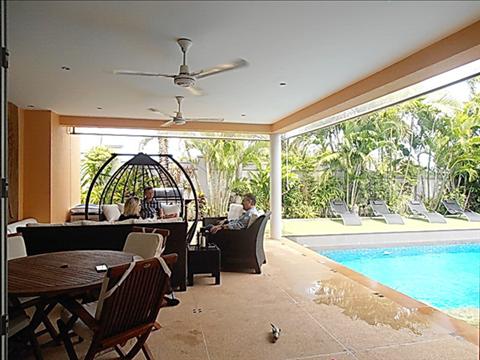 * * * * *
During 2012 May was appointed Editor / Publisher of Real Estate Magazine (REM).
* * * * *
February 2010
Robert successfully applied for membership of the National Association of Realtors® (NAR®) and can officially call himself a REALTOR® which is a registered trademark of NAR® - watch out for companies calling themselves "Realtors®" who think that it it just another term for real estate brokers/agents!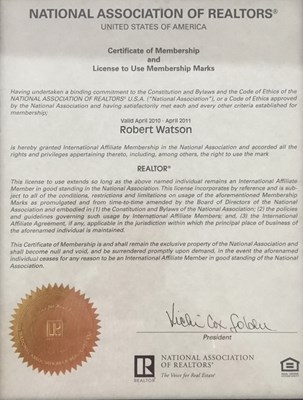 * * * * *
February 2010
Robert successfully completed the CRS® Real Estate Advanced Practices (REAP) and now holds the highly sought after NAR® designation Certified Residential Specialist® awarded by the Council of Residential Specialists an affiliate of the NATIONAL ASSOCIATION OF REALTORS®
Robert is 1 of only 43 real estate brokers in Thailand that holds the CRS® designation (7 in Pattaya).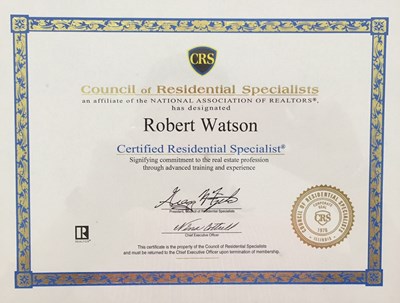 CRS is the highest credential awarded to real estate brokers.
* * * * *
August 2009
May was elected as President of REBA-ES
* * * * *
EXERPT from Real Estate Magazine Dec/Jan 2010
Robert D Watson cips crs Managing Director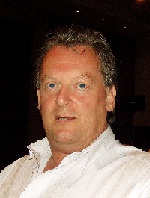 May Watson Managing Director (Joint)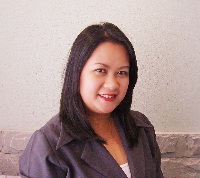 New Year's Resolutions of May Watson, President of the Real Estate Broker Association – Eastern Seaboard.
My main New Year's Resolutions this year will be commercial ones.
As the second President of the Real Estate Broker Association – Eastern Seaboard, I would like to conclude my first term in office by consolidating the hard work of my fellow Members, that being increasing the local awareness of the benefits of REBA-ES, to both the public and real estate brokers, with current the rebranding exercise and build further on the quality membership we have.
My second resolution will be, with the support of the Membership of REBA-ES, I will be putting myself forward for an unprecedented second term in office as President of the Real Estate Broker Association – Eastern Seaboard.
Happy New Year to all REM readers.
Excerpt from Real Estate Magazine
TWO politicians named Barack and John may be about to contest the small matter of another presidency next month, but one presidential election - a lot closer to home - has already been held. It was a one candidate race, no contest, undisputed, call it what you will. When May Watson agreed to stand for presidency of REBA-ES, she got the job. Simple as that! Well, actually, maybe it wasn't that simple. May took a little time to think about it. She talked with her husband and business partner, Robert, plus other REBA-ES board members (she was already the organisation's secretary) before deciding to accept the invitation. May had a tough act to follow - outgoing president Supap Wade had been the first to take the role. Supap and the first board of the association (with May as a member, of course) had done all the hard work of getting it going. "Supap has done a very, very good job," said May. "We wouldn't be where we are today without her. All I can do now is try my best for the organisation."
May said she had a chat with Supap before accepting the presidency. "Supap encouraged me to take the job as she was keen to see new people drive REBA-ES forward," she said.
May had only been the president for just over a month when we spoke.
How much of her time was it taking up - and had she been prepared for the commitment? I asked. "I have to go to Bangkok at least once a month (to meet with the parent organisation) and I have at least two meetings a month to attend in addition," May said.
One of the local meetings is of the association's board; the other for the whole membership. "I had an idea of what was involved from my time as the association's secretary. The president's role takes up time, but maybe being secretary took up more," she said, allowing herself a small smile.
"Although I'm not constantly attending REBA meetings, I'm often thinking about REBA matters and I always have to be available to speak to members. You know how it is, you can rarely switch off totally."
Did being president interfere with her work as joint owner of Five Star Villas & Condos in Jomtien?
"Well my husband provides big support. If I didn't have the peace of mind that Robert is minding the business, I wouldn't have taken the job," she said. "Many meetings fall outside office hours which helps with my work for Five Star. But that does take away family time."
Immediate family for May is Robert and her two-and-a-half-year-old daughter, Emily May, who is looked after by a full-time nanny.
What does she hope to achieve in her two-year term?
"Well, as I said before, a lot of the hard work of establishing REBA-ES has been done. I will regard my tenure as a success if I have helped to market the association well to the buying public," was May's reply.
Could she elaborate? "Often I am asked what is different about dealing with a REBA member? We need to get that difference across."
And what is different?
"First, I'd like to make something very clear. There are many good real estate agents operating in Pattaya who are not, or chose not to be, members of REBA. They have good standards and operate ethically," said May. "REBA members don't claim to have a monopoly in these areas.
"However, the buying public can be assured that REBA-ES members do operate to certain standards and ethics."
Could she quote any examples? "Here's a very simple one. If a member of REBA were to show a house or condo they actually own to a prospective buyer they would be obliged to let the viewer know of their personal interest."
This is to stop agents favouring their own properties ahead of others that are on their books? "Yes, I should add that it's not against the law to sell your own property, of course. But we ask members to declare their interest to buyers. Not to do so, we think, would be unethical." What if the broker is also a developer?
"REBA is about brokerage. The REBA triangle logo can only be used to promote the brokerage aspect of any business." So no member can hint that REBA standards apply to their developments by using the triangle logo in that context? "That's right." Any plans to expand the membership? "We are always keen to welcome new brokers to our ranks, but the accent for us is on quality not quantity. We want the membership to expand but we want to protect our standards."
First step for any brokerage is to persuade a current member to put their name forward for consideration. Trust must be established. "We are not seeking to exclude companies, but we do want to be sure that they share our values," said May.
If the association expands doesn't the potential for differences of opinion increase exponentially? "There are always differences of opinion," said May. "In a business of just two partners they can see matters in different ways."
The association currently has 21 members. Is it difficult to keep all 21 in agreement? "We discuss matters as a board. We have a board of eight plus myself. I rely heavily of these people. In addition to the board we have specialist committees who discuss specific topics. When we present our thoughts to the whole membership we have usually arrived at a consensus. "But of course, matters can still arise under any other business (AOB) at a meeting. That can lead to some interesting discussions.
"I think the thing I most want to get across is that everyone in REBA-ES realises that, to make things work, we must focus on the interests of the group - not individuals. We always come to an agreement in the end."
When May gives up the REBA-ES presidency in 2010 how does she hope her time at the helm will be judged?
"I hope people will be able to say I helped play a role in getting REBA's values better understood by the buying public. Our early years have focussed on getting our standards established and and our educational policies right. Now we need to market REBA to the world outside our association," said May.
Perhaps by chatting to me, May might feel that she has already set that marketing 'ball' rolling...
* * * * *
You will see from the above that Robert and May Watson are not newcomers to the Pattaya real estate market, having gained valuable market experience and high regard from their peers during their 10 years within the sector.
Robert is proud to be one of the highest QUALIFIED real estate brokers in Pattaya.
Over the last 9 years both have been active participants in the development of Real Estate Association of Thailand Eastern Seaboard (REBA-ES) which has now been rebranded as Pattaya Real Estate Brokers Association (PREBA)
In 2009 May was elected the second President of Real Estate Broker Association – Eastern Seaboard (REBA-ES); a position that she held until REBA-ES was rebranded as PREBA in 2016.
May is now the innaugral President of PREBA
Robert was elected as the Treasurer of REBA-ES; a role he now holds with PREBA.
Here at Five Star Villas & Condos we regard integrity and customer satisfaction as paramount!
GIVE US A CALL!
Robert: +66 81 938 8391 robert@fivestarvillasandcondos.com
May: +66 800 916 667 may@fivestarvillasandcondos.com
Five Star Villas and Condominiums Co., Ltd.
Pattaya Office : 47/109 Moo 9, Welcome Town, Pattaya Klang Road, Nongprue, Banglamung, Chonburi 20150, Thailand
Five Star Villas and Condos are members of TREBA, RESAM, PREBA, NAR and Thai Appraisal Foundation, with May Watson being President of REBAES since 2009 and the inaugural President of PREBA.