Testimonials
Nice way to start a Monday...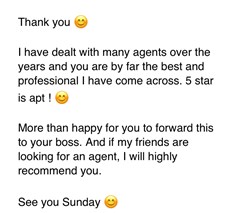 B.S.
Nice email received today...well done May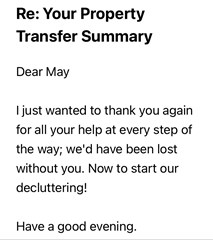 A & J
Its been ages since I last thought about updating this section of the website but last night I thought my Team deserved an overdue mention: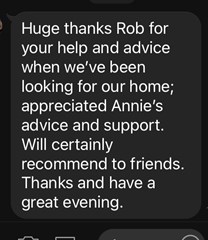 S.S.

It's always a pleasure to deal with Rob and the team at Five Star with the company certainly living up to the name. As agents for my property in Pattaya, they are always available no matter what the request and have been reliable, professional and flexible in every way. I have no hesitation in recommending Five Star for all your property needs. Thoroughly recommended! A.E.


I just wanted to say a big thank you to Robert Watson and his team at Five Star Villas; especially Annie for all their help and advice given to me with regards to my new home, they found me exactly what I was looking for. Great professional, helpful service and the after care and follow up service is a nice touch too and I highly recommended them. Thanks very much for all your help it's much appreciated. P.S.

Robert is a great guy to deal with from start to finish of the transaction. Not too many agents you can trust in Pattaya but Robert is one of them! R.A.

Great company sold my condo and everything was quick efficient and very professional L.P.

It certainly will not be the last time myself and Robert do business together!
Robert and his company went out of their way to make my Condo purchase here an absolute pleasure and a stress free experience.
Nothing was too much trouble for Robert from picking me up to allowing me multiple viewings of the property that I was buying and running me around in order to get things done.
Robert and his team, including the Lawyer are very professional in how they operate and conduct their business.
One thing that stands out with Robert is that he doesn't make promises he cannot keep.
There are not too many property agents in Thailand, and particularly Pattaya, that I would trust but Five Star Villas & Condos have my backing.
It certainly will not be the last time myself and Robert do business together.
Thanks Robert and your team at Five Star and I wish you the very best of luck in the future for your business.
R.A Happy In Thailand

The highest level of service
From the moment we listed our villa in Pattaya to the successful conclusion of the sale Robert Watson and Five Star Villas and Condominiums were the consummate professionals.
Robert suggested a number of marketing initiatives which brought brokers and potential buyers to the property. This resulted in a great deal more interest in our villa which had been on the market for some time previously.
I can wholeheartedly recommend Five Star Villas and Condominiums for their knowledge of the market, counsel, and integrity. Great communication and exemplary follow up with the highest level of service.
To buy or sell property in Pattaya and the region Five Star Villas and Condominums; Robert and his team with his very professional wife May are a cut above. I would not hesitate to seek their professional service in the future. Thank you Robert and May. R.B.

I strongly recommend them!
I have done my first transaction in Thailand with Five Stars Villas and Condos and this was definitely not the last transaction with them in case I will invest further.
First of all I have to say the complete team is 24/7 available no matter in which regards even after the transaction.
Five Star Villas and Condo is an excellent partner in all matters, they will handle all matters for you no matter payment / solicitor suggestion / registration.
My deal was done by Rob (lovely, hard working owner) and Annie (excellent connected lady) and both of them together is an excellent team.
The agent has the right name and will get 5 out of 5 stars for their service and I strongly can recommend them to anyone.
Kind Regards, / Beste Grüße
N.Y.K. (buyer from Hong Kong)

Great thanks for this.
All is fine and I have confirmed deposit in my account.
This is a very good outcome, and I am glad I had faith in your ability to close a deal.
Will be in touch.
All the very best W.J. (a happy Owner - we rented his condo)

Well Robert ...
"Well Robert you've really knocked the ball out of the park with this one" S.L.C. (a happy renter)

You certainly have done well ...
Hi Robert! You cerainly have done well with this sale ... far beyond anyone I have dealt with before. So thanks for all your effort J.C.

A really great effort
"... then a sale by Rob at "5 Star Villas and Condos" carefully and thoughtfully engineered and beautifully executed" J.C.

Personable service with nothing too much trouble for the Five Star team - without doubt a company that actually lives up to its name. Truly five star service.
A.E.

Robert I just wanted to drop you a quick note to thank you for such a stand up job you did finding me such a superb property.
I travelled the world for the last 10 years and seen literally 1000's of properties from 100's of agents.
You are the best. Hands down.
The quality apartments and villas you showed me were all of a VERY high standard. But when you showed me my new dream home, I was absolutely gobsmacked.
Thanks again,
Clifford M
Information Publisher

You have listed my house on your website
Hi Robert,
I seen, all is perfect.
Thank you very much for your special help for sale our House.
You are professional and very friendly, thank you for that.
Regards
G.C.

Hello sweetie!!
The house is fabulous and I am thrilled!!! We do have some questions about making things work, laundry, etc. so I wondered if it would be possible for you to stop by around 5 or 6 this evening? Yes, we just realized it is Sunday so if this doesnt work for you, not a problem... just send an email when you get this and we will check it later..........
Smooches baby and talk to you soon!!
Sharon

Thank you very much for the help and unbiased opinions
Thank you very much for the help and unbiased opinions that you have given me, I have found you to conduct your business in a very professinal manner and I will have no hesitation whatsoever in continuing our discussions at a somewhat later date if I do decide to invest in property.
Best Regards
Kevin

Both Kate and I would like to express our appreciation
Hi Robert,
Both Kate and I would like to express our appreciation at the time and effort you spent this week showing us and arranging for our occupancy at Sefton Park. We both look forward to living here and perhaps we'll bump into you for a beer in our travels around Pattaya.
Once again thanks.
Cheers,
Terry F and Kate

Thank you for taking the time to sort this out for us
Robert
Thank you for taking the time to sort this out for us and for staying late at work. So far, you have gone above and beyond the call of duty.
S.F

Thanks much for helping us enjoy our weekend break
Hey Bob:
Hope u are well now and back to work,
Yr wife was very helpful in getting us to the lovely villa,
We also made a run to the bang saray villa to look it up
But decided on the villa in the city
Anyways, thanks much for helping us enjoy our weekend break
We'll be in touch if we decide on another break
Take care now
Bye
Sabil & Anila